RETURNS AND EXCHANGES
We hope you are delighted with your order. If this is not the case, you can request a return of your items within 15 days of receiving your order. Please note that any items with labels removed cannot be returned.


RETURN COSTS

Costs may apply in the event of returning an item. These costs differ depending on the shipping area.
Return costs will be deducted directly from the order refund.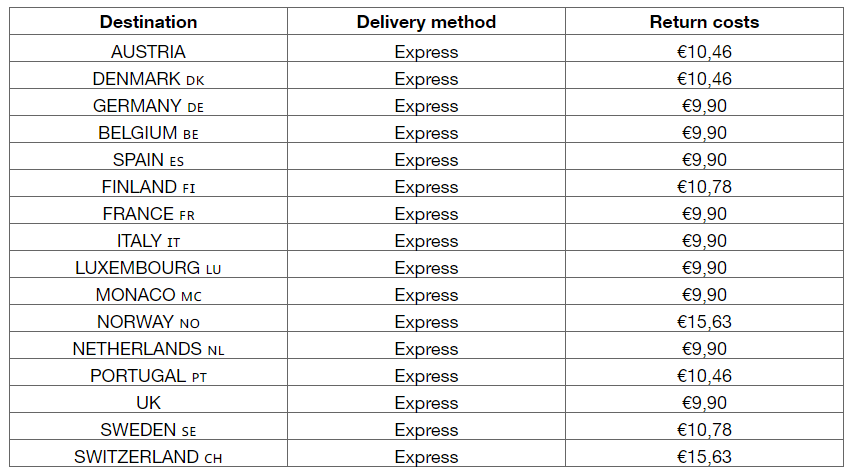 HOW TO RETURN YOUR PURCHASE
1- Complete the return slip enclosed in your parcel by hand following the instructions.
2- Place the items to be returned back in their original packaging.
3- Carefully affix the attached return label to the parcel ensuring that you cover the previous delivery label. Make sure you leave the parcel open so we can check the contents when collecting.
4-Give your parcel with your return label to the carrier after making an appointment with DHL Express or leaving it at the dispatch centre. We will notify you by email of the receipt and processing of your return.
To ensure prompt processing and comply with our returns policy, your items must be returned to us in their original packaging and shipped from the same country of delivery as your original order.
If you have any questions, please contact our customer service by e-mail at contact@pellatfinet.com
We do not offer exchanges, however you can return the item that does not suit you and place a new order.
HOW TO BOOK THE RETURN COLLECTION SERVICE
In France, call DHL on +33 (0)8 25 10 00 80 or click here to schedule your picking online.
After making sure you have selected the correct country/region in the upper right corner of the page, enter your 10-digit tracking number. This can be found below the barcode on your return label. Check that your details are correct and select the date and time when DHL Express can collect your package.
Overseas, you can schedule you picking online or find your localized phone number on DHL Express website.
If you wish, you can drop off your return at the nearest DHL Express service point : https://locator.dhl.com/

REFUND
All returned items will be refunded to the account used for their purchase. Shipping costs will not be refunded.
You will receive an email informing you when the refund has been made. Allow around 7 to 10 working days (to be specified) for the processing of your return package.
If you any requests or any questions about the returns procedure, please contact our customer service by e-mail at contact@pellatfinet.com